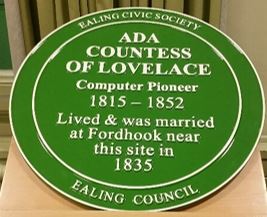 16th May 2019
Some staff, students and governors represented Ada Lovelace CofE High School at an event organised by Ealing Civic Society at Ealing Town Hall on Thursday 9th May.
Professor Ursula Martin, of Wadham College, Oxford and co-author of "Ada Lovelace – The Making of a Computer Scientist" gave the society's annual John Delafons lecture on the subject of Ada Lovelace, her contribution to computer science and her links with Ealing.
A green plaque was unveiled by the new mayor and Earl Lytton, great-great-grandson of Ada Lovelace. It will in due course be at the junction of Uxbridge Road and Fordhook Avenue, close to her former home.